Hail Damage

When hail strikes your roofing, it can knock off the protective granules of shingles. These damaged areas become the source of leaks in your roof. Leaks won't occur immediately, however, and it can often take a few years for them to develop. But it makes sense to replace any damaged shingles as soon as possible—waiting until you notice a leak will only mean that you'll be paying more, or doing more work, to repair the damage.
Often, insurance companies will pay for the repairs any hail damage, but only if it's been properly assessed by a professional roofing contractor. However, it's not a bad idea to check for hail damage on your own prior to calling in a professional. Of course, you should always do so safely. If you're getting onto your roof, wear shoes with a solid grip and stay away from the edges of the roof. And any time you use a ladder, be sure it's stable and positioned correctly.
Follow these steps to check your roofing for any hail damage:
1. First, check the metal parts of your roofing.
Any parts of your roofing that are made from metal will be more apparently damaged by hail. It will be much easier to tell if these parts of your roof have been hit by hail than whether your shingles have. If you have any metal vents, flashing, or valleys, look there first for any dents. If you're able to find any damage on these parts of your roof, there's a strong chance that other parts of your roofing have been damaged as well. If you don't find any dents, your chances are better, but you still aren't in the clear.
Note: Before checking any part of your roof, you can also look around for any damage to other parts of your home. If any trees, shrubs, or other plants appear to have been stripped of their foliage, they may have been struck by hail. And, just like the metal parts of your roof, if your car, patio furniture, or any other metal structures around the home are damaged or dented, that can be a sign that your roofing has likely also been damaged.
2. Get a ladder and check the top of your roof.
The ridge cap at the top of your roofing is flat. During a storm, this flat top will take more direct hits from hail than the slanted parts of your roof. So if your roofing has been damaged, this is likely where it will be most prominent. Also check the shingles themselves—and specifically their edges—for any signs of damage.
3. Look for major signs of hail damage.
The three biggest things to look out for when you're assessing a roof for hail damage are bruising, cracking, and missing granules. If you find any of these signs after a storm, there's a huge chance that your roofing was damaged by hail. If you find any missing pieces of asphalt, or any shingles with exposed, black substrate, then you have shingles that have most definitely been struck by something with enough force to do significant damage. Bruising in the shingles occurs when the hail leaves a dent that isn't very visible. Run your hands over the shingles to find any small indentations. If you think you feel any, press down to see if it will succumb to pressure. If it does, it could be the early stages roofing deterioration. If your roofing is hit hard enough with large pieces of hail, it will leave clearly visible circular cracks in the shingles.
If you find any signs of damage, it's safe to call a professional roofer for an insurance assessment.
Hail Damage and Wood Shingles or Shake Roofing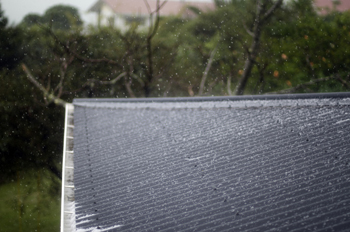 First, it's important to note that wood shingles and shakes that have been hit by hail are perfectly fine as long as they do not split upon impact. Studies have shown that when wood roofing doesn't split immediately, it's not likely that it will split in the future. To identify hail damage on wood roofing, you'll need to find a hail impact mark on or very near a fresh split in the wood. Keep in mind that independent test have determined that hailstones with less than a 1 1/4 inch diameter generally cannot do enough damage to wood shingles or shakes for there to be a difference in their functionality or structure.
After Checking for Hail Damage
After you've checked for hail damaged, you can choose to call your insurance company or a roofing contractor to confirm the damage. Be sure to cover up any holes in your roofing to prevent any more moisture damage from occurring, or you'll end up needing even more repairs. Remember: any damage to your roofing, no matter how small it is to begin with, will quickly escalate. A missing shingle can turn into a leak, which will turn into roof slouching, and so on. So it's important to identify and rectify any damages as soon as possible.
Check Out Our Recent Articles About Hail Damage
Inspecting and Indentifying Hail Damage

A thunderstorm rolls into your city, and it brings with it complete chaos. There are several different features of a thunderstorm that can affect your home. The high winds can blow away solid structures. The heavy rains can cause major flooding, and the hail damage can do irreversible damage to your roof and other home...

Read More